Figured I'd make a timely update since spring TV is back underway this week. Brief comments at
W-I
linked to the cuts for new stuff from last night:
The Office: 3.13 - "Traveling Salesmen"
Smallville: 6.10 - "Hydro"
Supernatural: 2.10 - "Hunted"
Also kept up with new eps of My
Name is Earl
and
The O.C.
last night, and have yet to watch
Grey's Anatomy
,
Scrubs
, and
ER
. Will do so tonight or sometime this weekend - there just aren't enough hours in the day. *yawns*
Will also mention that
Friday Night Lights
has been new the last two weeks - in its new Wednesday, 8PM time slot. I'll reiterate once again that this show is so good I literally want to weep. Far and away the best new show this season, and one of the best true character-driven - and family/teen suitable - dramas to come along in years. From the start, it immediately moved into my top 10 of all shows on TV, and is creeping higher - it's probably 6 or 7 now - and for a show with only a dozen or so eps so far, that's saying something. Easily the most "quality" freshman show deserving a pick-up for a second season, but as its future beyond this 22 episode order is more than murky, I'm keeping all my digits crossed. After the shameful yanking away of
Everwood
last season, I NEED this to stick around.
And as I mentioned in one of the comments from the last update,
Battlestar Galactica
returns with episode 12 of season three a week from Sunday, on the 21st at 10PM - its new time slot. For those who need to play catch-up - or may just want a refresher to the story so far (like me) - SciFi Channel is running a marathon of the first eleven episodes of season three this Monday, the 15th, beginning at 8AM. Frak-tastic.
The much anticipated (at least, by me) return of
24
is this weekend, as season six kicks off with two hours on Sunday night, and two hours on Monday night. The show returns with hour five in its regular slot the following Monday, the 22nd, at 9PM - opposite
Heroes
. As I imagine the shows have fans that watch both of them, it should be interesting to see how the ratings for each affect the other. I'd guess a lot of TiVos, DVRs, and VCRs will be in use (mine will be).
Finally, I'll give a shout-out to the forthcoming
Buffy the Vampire Slayer
comic series published by Dark Horse (hence this update's userpic). I must have mentioned this here sometime before, but again: this is a continuation of the continuity from the end of the television series - a season 8 in comic form. Joss himself is supervising the story, and even writing several of the stories in the 25-30 issue run. The announcement for this was last year, so its been on my must-own list for months now, but I got even more excited with the release of the cover image for issue #2 this week. I know I may be setting myself up for disappointment in the actual story being told, but I don't care - Xander Harris is one of my
top 20 all time favorite television characters
, so seeing his presence be somewhat significant - especially all bad-ass-ified with Buffy on the cover - makes a memorable moment for this fanboy. For posterity's sake I'll link pictures of the first two issues' covers under the cuts: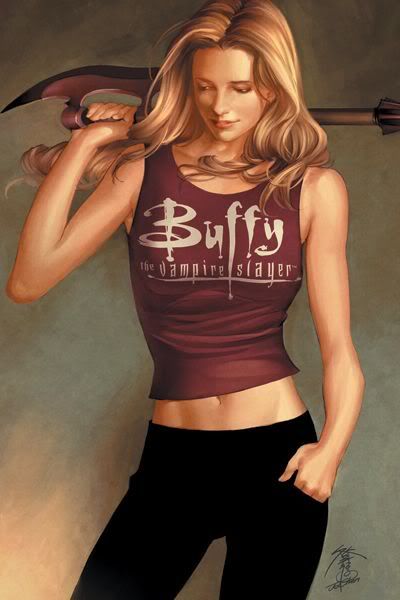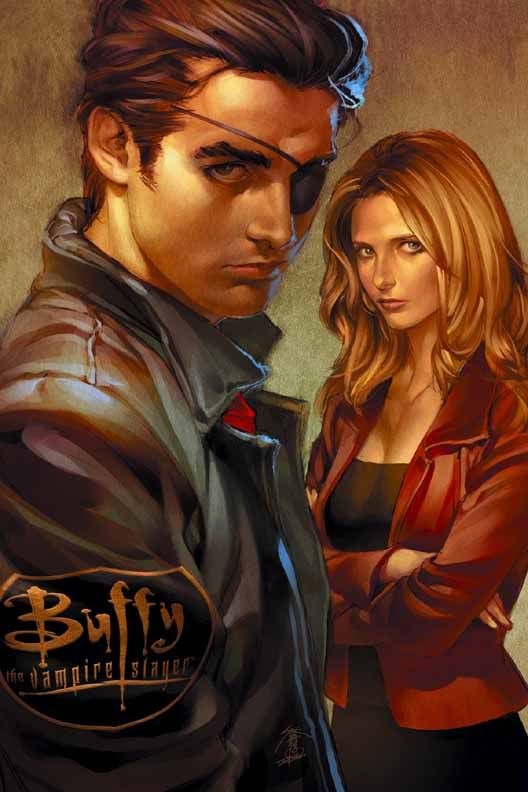 I already posted this info at Wicked-Insanity
HERE
, but a brief synopsis of the series and a few more preview panels of the first few pages can be found in the press release on Dark Horse's site
HERE
.
And I guess that's all for now. This turned out to be longer than I anticipated, so I should probably do some work.